GMC Terrain: Front Seats / Memory Seats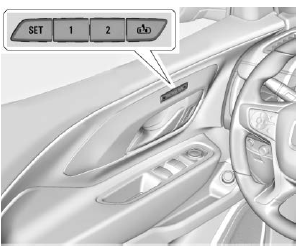 If equipped, memory seats allow two drivers to save and recall their unique seat positions for driving the vehicle, and a shared exit position for getting out of the vehicle. Other feature positions may also be saved, such as power mirrors and power steering wheel, if equipped. Memory positions are linked to RKE transmitter 1 or 2 for automatic memory recalls.
Before saving, adjust all available memory feature positions. Turn the ignition on and then press and release SET; a beep will sound.
Then immediately press and hold 1, 2, or

(Exit) until two beeps sound. To manually recall these positions, press and hold 1, 2, or

until the saved position is reached. Follow the instructions under "Saving Memory Positions."
The vehicle identifies the current driver's RKE transmitter number (1– 8). See Remote Keyless Entry (RKE) System Operation. Only RKE transmitters 1 and 2 can be used for automatic memory recalls. A Driver Information Center (DIC) welcome message indicating the transmitter number may display for the first few ignition cycles following a transmitter change. For Seat Entry Memory to work properly, save the positions to the memory button (1 or 2) matching the RKE transmitter number displayed in the DIC welcome message. Carry the linked RKE transmitter when entering the vehicle.
Memory adjustments may not be available upon delivery or after service until steps in "Saving Memory Positions" section are performed.
To have the Seat Entry Memory movement begin when the vehicle is started, select the Settings menu, then Vehicle, then Seating Position, and then Seat Entry Memory...
Other information:
DRL can make it easier for others to see the front of your vehicle during the day. Fully functional DRL are required on all vehicles first sold in Canada. The DRL system comes on in daylight when the following conditions are met: The ignition is on...
For more information about the vehicle battery, see Battery - North America. If the battery has run down, try to use another vehicle and some jumper cables to start your vehicle. Be sure to use the following steps to do it safely. Warning WARNING: Battery posts, terminals, and related accessories contain lead and lead compounds, chemicals known to the State of California to cause cancer..