GMC Terrain: Electrical System / Instrument Panel Fuse Block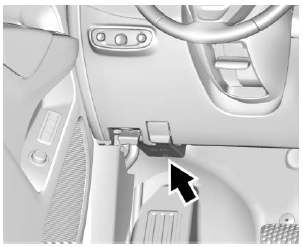 The instrument panel fuse block is under the instrument panel on the driver side.
To access the fuses, press and release the latch near the top center square.
Apply pressure to the two retaining tabs on the sides of the cover, until the two retaining tabs clear the sides of the instrument panel. Allow the panel to move downward and out of the way.
To reinstall the cover, reverse the steps.
The vehicle may not be equipped with all of the fuses and relays shown.
Fuses Usage
F01 DC AC inverter
F02 Front windows
F03 Trailer brake
F04 Heating, ventilation, and air conditioning blower
F05 Body control module 2
F06 CGM
F07 –
F08 Body control module 3
F09 Amplifier
F10 –
F11 –
F12 –
F13 –
F14 Electronic shifter
F15 Transmission control module
F16 Front heated seats
F17 Left data link connector
F18 Body control module 7
F19 Exterior mirror
F20 Body control module 1
F21 Body control module 4
F22 Body control module 6
F23 Electric steering column lock
F24 Sensing and diagnostic module
F25 Occupancy sensor
F26 –
F27 Power seats
F28 Rear windows
F29 –
F30 Front heated seats switch
F31 Steering wheel controls
F32 Body control module 8
F33 Heating, ventilation, and air conditioning
F34 Passive entry, passive start
F35 Liftgate latch
F36 Wireless charger module/USB accessory
F37 Cigarette lighter
F38 OnStar
F39 Instrument panel USB
F40 Camera module/Liftgate module
F41 Park assist module
F42 Radio
Relays Usage
K01 Deadbolt
K02 Retained accessory power
K03 Liftgate
K04 –
K05 Logistics
Circuit Breakers Usage
CB1 –
CB2 Auxiliary power outlet console
To remove the fuse block cover, squeeze the clips on the cover and lift it straight up. See Engine Compartment Overview. Caution Spilling liquid on any electrical component on the vehicle may damage it...
The rear compartment fuse block is behind a trim panel on the side of the rear compartment. Remove the trim plate to access the fuse block. The vehicle may not be equipped with all of the fuses and relays shown...
Other information:
Driving on Snow or Ice Snow or ice between the tires and the road creates less traction or grip, so drive carefully. Wet ice can occur at about 0 °C (32 °F) when freezing rain begins to fall. Avoid driving on wet ice or in freezing rain until roads can be treated...
Press and hold 1, 2, or to recall the previously saved memory positions. To stop Manual Memory Recall movement, release 1, 2, or or press any of the following controls: Power seat Memory SET Power mirror, with the driver or passenger side mirror selected Power steering wheel, if equipped ..