GMC Terrain: Electrical System / Rear Compartment Fuse Block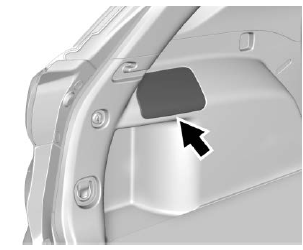 The rear compartment fuse block is behind a trim panel on the side of the rear compartment.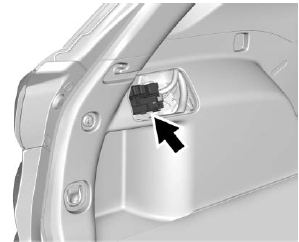 Remove the trim plate to access the fuse block.
The vehicle may not be equipped with all of the fuses and relays shown.
Fuses Usage
F1 Exhaust fuel heater
F2 Liftgate
F3 Trailer auxiliary power
F4 Passenger Power Seat
F5 Memory seat module
F6 Sunroof
F7 Side blind zone alert
F8 Trailer reverse lamps
F9 Rear heated seat 1
F10 Park Lamps
F11 Rear heated seat 2
F12 –
F13 Trailer parking lamp
F14 Right trailer stoplamp/Turn signal lamp
F15 Left parking lamp
F16 Right parking lamp
F17 –
F18 Left trailer stoplamp/Turn signal lamp
F19 All-wheel drive
F20 Lumbar
F21 Rear auxiliary power outlet
F22 Rear drive unit
Relays Usage
K1 Right trailer stoplamp/Turn signal lamp
K2 Trailer reverse lamps
K3 Left trailer stoplamp/Turn signal lamp
K4 Parking lamps
K5 Selective catalytic reduction (SCR) – (diesel only)
The instrument panel fuse block is under the instrument panel on the driver side. To access the fuses, press and release the latch near the top center square...
Other information:
Braking action involves perception time and reaction time. Deciding to push the brake pedal is perception time. Actually doing it is reaction time. Average driver reaction time is about three-quarters of a second. In that time, a vehicle moving at 100 km/h (60 mph) travels 20m (66 ft), which could be a lot of distance in an emergency. Helpful braking tips to keep in mind include: Keep ..
If ACC is engaged, driver action may be required when ACC cannot apply sufficient braking because of approaching a vehicle too rapidly. When this condition occurs, six red lights will flash on the windshield. Either eight beeps will sound from the front, or both sides of the Safety Alert Seat will pulse five times. See "Collision/Detection Systems" under Vehicle Personalization. See D..