GMC Terrain: Ride Control Systems / Driver Mode Control
The Driver Mode Control has the following Modes: Tour (FWD), All-Wheel Drive (AWD), Snow/Ice, and Tow/Haul. Turn the Driver Mode Control knob on the center console to make a mode selection. Continue turning the knob through the available modes. The selected mode's icon will light up on the knob. The vehicle must be in Park to switch between modes.
Driver Mode Control Knob for Front-Wheel Drive (FWD)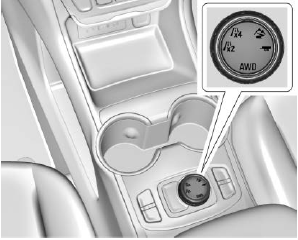 Driver Mode Control Knob for All-Wheel Drive (AWD)
(Vehicles without AWD) or

(AWD equipped vehicles) Tour Mode : Use Tour Mode during normal driving conditions. Tour Mode either puts the vehicle in Front-Wheel Drive (AWD vehicles) or is the normal drive mode (FWD vehicles). Tour Mode is the most fuel efficient drive mode. See Driving for Better Fuel Economy 0 27. When selecting Tour Mode, the AWD light will flash briefly while the system disables, and then stays off.
AWD Mode : In AWD Mode, the AWD system delivers power to all four wheels and the system adjusts as needed to improve traction. Selecting AWD Mode will activate the system. The AWD light will flash briefly while the system is engaging and stay on to indicate AWD is active. AWD Mode will stay selected until the mode is changed. AWD is active in Tow/Haul and Off-Road Modes. AWD Mode is only available on vehicles equipped with AWD.
Tow/Haul and Off-Road Modes are canceled with each ignition cycle and will return to the Tour Mode.
When using a compact spare tire on an AWD vehicle, the system automatically detects the compact spare and reduces AWD performance to protect the system. To restore full AWD operation and prevent excessive wear on the system, replace the compact spare tire with a full-size tire as soon as possible. See Compact Spare Tire.

Snow Mode : Snow Mode improves vehicle acceleration on snow and ice-covered roads. Snow Mode is not available on vehicles equipped with AWD.
Off-Road Mode : Use Off-Road Mode for public off-road recreational driving. See Off-Road Driving. Off-Road Mode is only available on vehicles equipped with AWD.

Tow/Haul Mode : Tow/Haul Mode can assist when towing or hauling a heavy load. It changes transmission shift patterns, turns on AWD, if equipped, and increases trailer sway control assistance. When Tow/Haul is activated, the Tow/Haul symbol will come on in the instrument cluster. See Driving Characteristics and Towing Tips. Tow/Haul Mode is only available on vehicles with the towing package.
Automatic Engine Grade Braking assists when driving downhill. It maintains vehicle speed by automatically implementing a shift pattern that uses the engine and the transmission to slow the vehicle. The system will automatically command downshifts to reduce vehicle speed. The normal shift pattern will return once the vehicle is on a low grade or when the accelerator pedal is pressed.
While in the Electronic Range Select (ERS) Mode, grade braking is deactivated, allowing a range to be selected and limiting the highest gear available. Grade braking is available for normal driving and in Tow/Haul Mode. See Manual Mode.
HDC can be used when driving downhill. It sets and maintains vehicle speed while descending a very steep incline in a forward or reverse gear. The HDC switch is on the center console...
Other information:
For vehicles with the Tire Pressure Monitor System (TPMS), this light comes on briefly when the engine is started. It provides information about tire pressures and the TPMS. When the Light Is On Steady This indicates that one or more of the tires are significantly underinflated. A Driver Information Center (DIC) tire pressure message may also display. Stop as soon as possible, and inflat..
This section describes how to use seat belts properly, and some things not to do. Warning Do not let anyone ride where a seat belt cannot be worn properly. In a crash, if you or your passenger(s) are not wearing seat belts, injuries can be much worse than if you are wearing seat belts. You can be seriously injured or killed by hitting things inside the vehicle harder or by being ejected..