GMC Terrain: Electrical System / Engine Compartment Fuse Block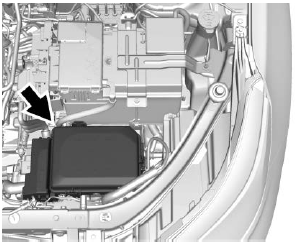 To remove the fuse block cover, squeeze the clips on the cover and lift it straight up. See Engine Compartment Overview.
Caution
Spilling liquid on any electrical component on the vehicle may damage it. Always keep the covers on any electrical component.
The vehicle may not be equipped with all of the fuses, relays, and features shown.
Fuses Usage F01 Starter 1
F02 Starter 2
F03 Lambda sensor 1
F04 Engine control module
F05 FlexFuel sensor
F06 Transmission control module
F07 –
F08 Engine control module
F09 Air conditioning clutch
F10 Canister vent solenoid
F11 Fuel system
F12 Front heated seats
F13 Afterboil pump
F14 –
F15 Lambda sensor 2
F16 Ignition coils
F17 Engine control module
F18 Selective catalytic reduction module (diesel only)
F19 NOx soot sensor (diesel only)
F20 DC DC converter 2
F21 Shift control
F22 Antilock brake pump
F23 Front/Rear washer pump
F24 –
F25 Diesel fuel heater (diesel only)
F26 –
F27 Antilock brake valves
F28 LD trailer
F29 Rear window defogger
F30 Mirror defroster
F31 –
F32 Variable functions
F33 –
F34 Horn
F35 –
F36 Right high-beam headlamp
F37 Left high-beam headlamp
F38 Automatic headlamp leveling
F39 Fog lamps
F40 –
F41 Transmission range control module
F42 Motorized headlamp
F43 –
F44 Interior rearview mirror
F45 Passenger side ventilated seat
F46 Driver side ventilated seat
F47 Steering column lock assembly
F48 Rear wiper
F49 –
F50 Heated steering wheel
F51 Right daytime running lamp
F52 Engine control module/Transmission control
F53 –
F54 –
F55 Front wiper speed/Control
F56 –
F57 Left daytime running lamp
Relays Usage
K01 Starter solenoid
K02 Air conditioning control
K03 Engine control module
K04 Front wiper control
K05 Starter pinion
K06 Fuel heater (diesel only)
K07 –
K08 –
K09 Front wiper speed
K10 –
K11 –
K12 High-beam headlamps
K13 Headlamps/Daytime running lamps
K14 Run/Crank
K15 Rear window defogger
*K16 Horn
*K17 Selective catalytic reduction
*K18 Fog lamps
*K19 Coolant pump
*K20 –
*K21 Rear washer pump
*K22 Front washer pump
*K23 Rear wiper control
* PCB relays are not serviceable.