GMC Terrain: Driver Assistance Systems / Surround Vision
If equipped, Surround Vision shows an image of the area surrounding the vehicle, along with the front or rear camera views on the infotainment display. The front camera is in the grille or near the front emblem, the side cameras are on the bottom of the outside mirrors, and the rear camera is above the license plate.
The Surround Vision system can be accessed by selecting CAMERA in the infotainment display or when the vehicle is shifted into R (Reverse). To return to the previous screen sooner, press any button on the infotainment system, shift into P (Park), or reach a vehicle speed of approximately 12 km/h (8 mph).
Warning
The Surround Vision cameras have blind spots and will not display all objects near the corners of the vehicle. Folding outside mirrors that are out of position may not display surround view correctly. Always check around the vehicle when parking or backing.
Views Displayed by the Surround Vision Cameras
Area Not Shown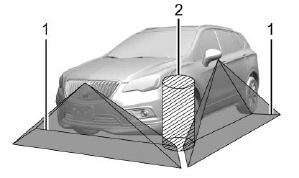 Views Displayed by the Surround Vision Cameras
Area Not Shown
Warning
The camera(s) do not display children, pedestrians, bicyclists, crossing traffic, animals, or any other object outside of the cameras' field of view, below the bumper, or under the vehicle. Shown distances may be different from actual distances. Do not drive or park the vehicle using only these camera(s). Always check behind and around the vehicle before driving. Failure to use proper care may result in injury, death, or vehicle damage.
If equipped, the Rear Vision Camera (RVC), Rear Park Assist (RPA), Front Park Assist (FPA), Surround Vision, Rear Cross Traffic Alert (RCTA), and Automatic Parking Assist (APA) may help the driver park or avoid objects...
Touch the camera view buttons along the bottom of the infotainment display. Front/Rear Standard View : Displays an image of the area in front or behind the vehicle...
Other information:
The vehicle must be on a level surface when checking the coolant level. Check to see if coolant is visible in the coolant surge tank. If the coolant inside the coolant surge tank is boiling, do not do anything else until it cools down. If coolant is visible but the coolant level mark is not visible, add a 50/50 mixture of clean, drinkable water and DEX-COOL coolant at the coolant surge..
The vehicle has an electronic keyless ignition with pushbutton start. The Remote Keyless Entry (RKE) transmitter must be in the vehicle for the system to operate. If the pushbutton start is not working, the vehicle may be near a strong radio antenna signal causing interference to the Keyless Access system. See Remote Keyless Entry (RKE) System Operation. To shift out of P (Park), vehicl..