GMC Terrain: Keys and Locks / Safety Locks
The rear door safety locks prevent passengers from opening the rear doors from inside the vehicle.
Manual Safety Locks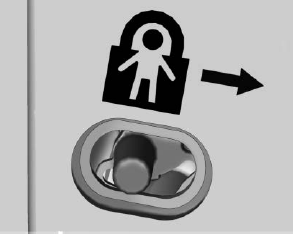 If equipped, the safety lock is on the inside edge of the rear doors. To use the safety lock:
Move the lever down to the lock position.
Close the door.
Do the same for the other rear door.
To open a rear door when the safety lock is on:
Unlock the door by activating the inside handle, by pressing the power door lock switch, or by using the Remote Keyless Entry (RKE) transmitter.
Open the door from the outside.
When the safety lock is enabled, adults and older children will not be able to open the rear door from the inside. Cancel the safety locks to enable the doors to open from the inside.
To cancel the safety lock:
Unlock the door and open it from the outside.
Move the lever up to unlock. Do the same for the other door.
If the ignition is on or in ACC/ ACCESSORY and the power door lock switch is pressed with the driver door open, all the doors will lock and only the driver door will unlock...
Other information:
Seat belts work for everyone, including pregnant women. Like all occupants, they are more likely to be seriously injured if they do not wear seat belts. A pregnant woman should wear a lap-shoulder belt, and the lap portion should be worn as low as possible, below the rounding, throughout the pregnancy. The best way to protect the fetus is to protect the mother. When a seat belt is worn ..
Warning Steam and scalding liquids from a hot cooling system are under pressure. Turning the pressure cap, even a little, can cause them to come out at high speed and you could be burned. Never turn the cap when the cooling system, including the pressure cap, is hot. Wait for the cooling system and pressure cap to cool. Warning Plain water, or other liquids such as alcohol, can boil befo..