GMC Terrain: Keys and Locks / Safety Locks
The rear door safety locks prevent passengers from opening the rear doors from inside the vehicle.
Manual Safety Locks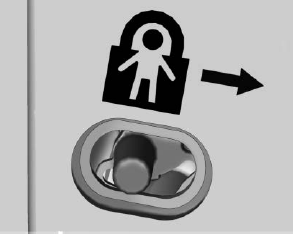 If equipped, the safety lock is on the inside edge of the rear doors. To use the safety lock:
Move the lever down to the lock position.
Close the door.
Do the same for the other rear door.
To open a rear door when the safety lock is on:
Unlock the door by activating the inside handle, by pressing the power door lock switch, or by using the Remote Keyless Entry (RKE) transmitter.
Open the door from the outside.
When the safety lock is enabled, adults and older children will not be able to open the rear door from the inside. Cancel the safety locks to enable the doors to open from the inside.
To cancel the safety lock:
Unlock the door and open it from the outside.
Move the lever up to unlock. Do the same for the other door.
If the ignition is on or in ACC/ ACCESSORY and the power door lock switch is pressed with the driver door open, all the doors will lock and only the driver door will unlock...
Other information:
Warning A crash can damage the seat belt system in the vehicle. A damaged seat belt system may not properly protect the person using it, resulting in serious injury or even death in a crash. To help make sure the seat belt systems are working properly after a crash, have them inspected and any necessary replacements made as soon as possible. After a minor crash, replacement of seat belt..
Skidding There are three types of skids that correspond to the vehicle's three control systems: Braking Skid — wheels are not rolling. Steering or Cornering Skid — too much speed or steering in a curve causes tires to slip and lose cornering force. Acceleration Skid — too much throttle causes the driving wheels to spin. Defensive drivers avoid most skids by taking reasona..