GMC Terrain: Driving Information / Off-Road Recovery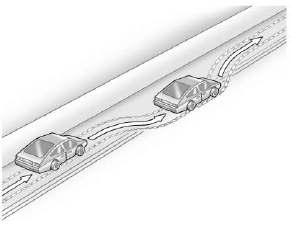 The vehicle's right wheels can drop off the edge of a road onto the shoulder while driving. Follow these tips:
Ease off the accelerator and then, if there is nothing in the way, steer the vehicle so that it straddles the edge of the pavement.
Turn the steering wheel about one-eighth of a turn, until the right front tire contacts the pavement edge.
Turn the steering wheel to go straight down the roadway.
Electric Power Steering The vehicle has electric power steering. It does not have power steering fluid. Regular maintenance is not required. If power steering assist is lost due to a system malfunction, the vehicle can be steered, but may require increased effort...
Skidding There are three types of skids that correspond to the vehicle's three control systems: Braking Skid — wheels are not rolling. Steering or Cornering Skid — too much speed or steering in a curve causes tires to slip and lose cornering force...
Other information:
Diesel Exhaust Fluid (DEF) is used with diesel engines to reduce the amount of regulated emissions produced. The DEF system must be maintained for the vehicle to run properly. It is normal to hear the DEF system purge fluid back into the tank after the vehicle is shut off...
Press and hold 1, 2, or to recall the previously saved memory positions. To stop Manual Memory Recall movement, release 1, 2, or or press any of the following controls: Power seat Memory SET Power mirror, with the driver or passenger side mirror selected Power steering wheel, if equipped ..