GMC Terrain: Initial Drive Information / Liftgate
Manual Liftgate Operation
Unlock the vehicle before opening the liftgate.
To open the liftgate, press the touch pad on the bottom of the liftgate and lift up.
Do not press the touch pad while closing the liftgate. This may cause the liftgate to be unlatched.
Power Liftgate Operation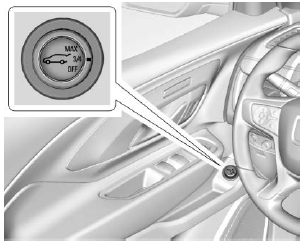 If equipped with a power liftgate, the switch is usually on the driver door. The switch can also be on the overhead console. The vehicle must be in P (Park).
Choose the power liftgate mode by turning the dial on the switch to either the 3/4 or MAX position. Press
to open or close the liftgate.
Hands-Free Liftgate The liftgate will not operate if the RKE transmitter is not within 1 m (3 ft).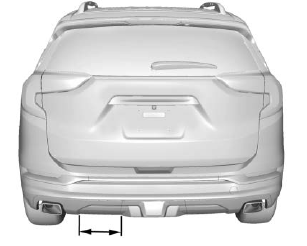 To operate, kick your foot straight up in one swift motion under the rear bumper between the left exhaust pipe and the license plate, then pull it back.