GMC Terrain: Driver Assistance Systems / Driver Assistance Systems
This vehicle may have features that work together to help avoid crashes or reduce crash damage while driving, backing, and parking. Read this entire section before using these systems.
Warning
Do not rely on the Driver Assistance Systems. These systems do not replace the need for paying attention and driving safely. You may not hear or feel alerts or warnings provided by these systems. Failure to use proper care when driving may result in injury, death, or vehicle damage. See Defensive Driving.
Under many conditions, these systems will not:
Detect children, pedestrians, bicyclists, or animals.
Detect vehicles or objects outside the area monitored by the system.
Work at all driving speeds.
Warn you or provide you with enough time to avoid a crash.
Work under poor visibility or bad weather conditions.
Work if the detection sensor is not cleaned or is covered by ice, snow, mud, or dirt.
Work if the detection sensor is covered up, such as with a sticker, magnet, or metal plate.
Work if the area surrounding the detection sensor is damaged or not properly repaired.
Complete attention is always required while driving, and you should be ready to take action and apply the brakes and/or steer the vehicle to avoid crashes.
Audible or Safety Alert Seat
Some driver assistance features alert the driver of obstacles by beeping. To change the volume of the warning chime, see "Comfort and Convenience" under Vehicle Personalization.
If equipped with the Safety Alert Seat, the driver seat cushion may provide a vibrating pulse alert instead of beeping. To change this, see "Collision/Detection Systems" under Vehicle Personalization.
Cleaning
Depending on vehicle options, keep these areas of the vehicle clean to ensure the best driver assistance feature performance. Driver Information Center (DIC) messages may display when the systems are unavailable or blocked.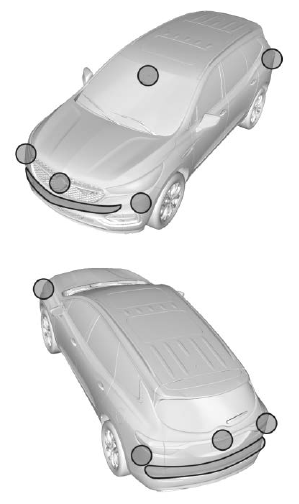 Front and rear bumpers and the area below the bumpers
Front grille and headlamps
Front camera lens in the front grille or near the front emblem
Front side and rear side panels
Outside of the windshield in front of the rearview mirrors
Side camera lens on the bottom of the outside mirrors
Rear side corner bumpers
Rear Vision Camera above the license plate
If equipped, the Rear Vision Camera (RVC), Rear Park Assist (RPA), Front Park Assist (FPA), Surround Vision, Rear Cross Traffic Alert (RCTA), and Automatic Parking Assist (APA) may help the driver park or avoid objects...
Other information:
System Operation The vehicle has a Traction Control System (TCS) and StabiliTrak/ Electronic Stability Control (ESC), an electronic stability control system. These systems help limit wheel slip and assist the driver in maintaining control, especially on slippery road conditions...
Forward Collision Alert (FCA) System If equipped, FCA may help avoid or reduce the harm caused by front-end crashes. FCA provides a green indicator, , when a vehicle is detected ahead. This indicator displays amber if you follow a vehicle too closely...