GMC Terrain: Vehicle Checks / Wiper Blade Replacement
Windshield wiper blades should be replaced periodically. See Maintenance Schedule.
Replacement blades come in different types and are removed in different ways. For proper type and length, see Maintenance Replacement Parts.
Caution
Allowing the wiper arm to touch the windshield when no wiper blade is installed could damage the windshield. Any damage that occurs would not be covered by the vehicle warranty. Do not allow the wiper arm to touch the windshield.
Front Wiper Blade Replacement
To replace the wiper blade:
Pull the wiper assembly away from the windshield.

Lift up on the latch in the middle of the wiper blade where the wiper arm attaches.
With the latch open, pull the wiper blade down toward the windshield far enough to release it from the J-hooked end of the wiper arm.
Remove the wiper blade.
Reverse Steps 1–3 for wiper blade replacement.
Rear Wiper Blade Replacement
The rear wiper blade and wiper arm have a cover for protection.
To remove the cover: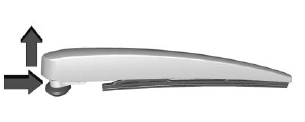 Slide a plastic tool under the cover and push upward to unsnap.
Slide the cover toward the wiper blade tip to unhook it from the blade assembly.
Remove the cover.
After wiper blade replacement, ensure that the cover hook slides into the slot in the blade assembly.
Snap the cover down to secure.
To replace the wiper blade:
Lift the wiper arm away from the windshield.

Push the release lever (2) to disengage the hook and push the wiper arm (1) out of the blade assembly (3).
Push the new blade assembly securely on the wiper arm until the release lever clicks into place.
Warning When you are doing this check, the vehicle could begin to move. You or others could be injured and property could be damaged. Make sure there is room in front of the vehicle in case it begins to roll...
Driver Assistance Systems If the windshield needs to be replaced and the vehicle is equipped with a front camera sensor for the Driver Assistance Systems, a GM replacement windshield is recommended...
Other information:
ACC may have difficulty detecting the following objects: Vehicles in front of your vehicle that have a rear aspect that is low, small, or irregular An empty truck or trailer that has no cargo in the cargo bed Vehicles with cargo extending from the back end Non-standard shaped vehicles, such as vehicle transport, vehicles with a side car fitted, or horse carriages Vehicles that..
The vehicle has an engine coolant temperature gauge on the instrument cluster and overheat messages in the Driver Information Center (DIC) to warn of engine overheating. See Engine Coolant Temperature Gauge. The decision may be made not to lift the hood when the engine coolant temperature gauge is in the overheat zone or an engine overheat DIC message displays, but instead to get servic..