GMC Terrain: Initial Drive Information / Windshield Wiper/Washer
The windshield wiper/washer lever is on the side of the steering column. With the ignition on or in ACC/ACCESSORY, move the windshield wiper lever to select the wiper speed.
HI : Use for fast wipes.
LO : Use for slow wipes.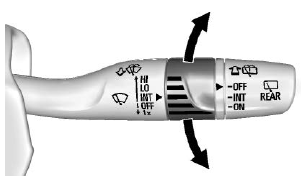 INT : Move the lever up to INT for intermittent wipes, then turn the band up for more frequent wipes or down for less frequent wipes.
OFF : Use to turn the wipers off.
1X : For a single wipe, briefly move the wiper lever down. For several wipes, hold the wiper lever down.
: Pull the windshield wiper lever toward you to spray windshield washer fluid and activate the wipers.
Rear Window Wiper/Washer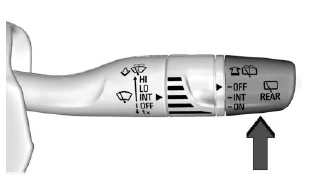 Turn the end of the windshield wiper lever to operate the rear window wiper/washer.
OFF : Turns the system off.
INT : Intermittent wipes.
ON : Slow wipes.

: Push the windshield wiper lever forward to spray washer fluid on the rear window. The lever automatically returns to its original position when released.
See Windshield Wiper/Washer and Rear Window Wiper/ Washer.
The exterior lamp control is on the instrument panel to the left of the steering column. There are four positions. : Turns the exterior lamps off and deactivates the AUTO mode...
The vehicle's heating, cooling, defrosting, and ventilation can be controlled with these systems. Climate Control System Fan Control A/C (Air Conditioning) Air Delivery Mode Controls Defrost TEMP (Temperature Control) Rear Window Defogger Air Recirculation Dual Automatic Climate Control System Driver Temperature Control A/C (Air Conditioning) Air Delivery Mode Controls Fan Control..
Other information:
ACC may have difficulty detecting the following objects: Vehicles in front of your vehicle that have a rear aspect that is low, small, or irregular An empty truck or trailer that has no cargo in the cargo bed Vehicles with cargo extending from the back end Non-standard shaped vehicles, such as vehicle transport, vehicles with a side car fitted, or horse carriages Vehicles that..
The following is the list of all possible DIC info page displays. Some may not be available for your particular vehicle. Some items may not be turned on by default but can be turned on through the Options app. See " Info Page Options" earlier in this section. Speed : Shows the vehicle speed in either kilometers per hour (km/h) or miles per hour (mph). If equipped, press to open the ..