GMC Terrain: Initial Drive Information / Steering Wheel Adjustment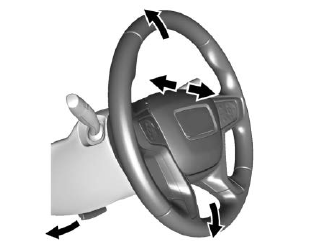 To adjust the steering wheel:
Pull the lever down.
Move the steering wheel up or down.
Pull or push the steering wheel closer or away from you.
Pull the lever up to lock the steering wheel in place.
Do not adjust the steering wheel while driving.
Adjustment Adjust the rearview mirror to clearly view the area behind the vehicle. Manual Rearview Mirror For vehicles with a manual rearview mirror, push the tab forward for daytime use and pull it rearward for nighttime use to avoid the glare of the headlamps from behind...
Other information:
If the interior temperature is extremely high, the instrument cluster may indicate that ACC is temporarily unavailable. This can be caused by extreme hot weather conditions with direct sunlight on the front camera. ACC will return to normal operation once the cabin temperature is lower. Conditions that are associated with low visibility, such as fog, rain, snow, or road spray, may limit ..
HDC can be used when driving downhill. It sets and maintains vehicle speed while descending a very steep incline in a forward or reverse gear. The HDC switch is on the center console. Press to enable or disable HDC. Vehicle speed must be below 50 km/h (31 mph). The HDC light displays on the instrument cluster when enabled. HDC can maintain vehicle speeds between 3 and 22 km/h (2 and 14..