GMC Terrain: Initial Drive Information / Steering Wheel Adjustment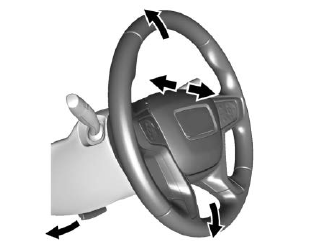 To adjust the steering wheel:
Pull the lever down.
Move the steering wheel up or down.
Pull or push the steering wheel closer or away from you.
Pull the lever up to lock the steering wheel in place.
Do not adjust the steering wheel while driving.
Adjustment Adjust the rearview mirror to clearly view the area behind the vehicle. Manual Rearview Mirror For vehicles with a manual rearview mirror, push the tab forward for daytime use and pull it rearward for nighttime use to avoid the glare of the headlamps from behind...
Other information:
This vehicle has a passive theft-deterrent system. The system does not have to be manually armed or disarmed. The vehicle is automatically immobilized when the transmitter leaves the vehicle. The immobilization system is disarmed when the ignition is turned on or in ACC/ACCESSORY and a valid Remote Keyless Entry (RKE) transmitter is in the vehicle. The security light, in the instrument c..
The brake master cylinder reservoir is filled with GM approved DOT 3 brake fluid as indicated on the reservoir cap. See Engine Compartment Overview for the location of the reservoir. Checking Brake Fluid With the vehicle in P (Park) on a level surface, the brake fluid level should be between the minimum and maximum marks on the brake fluid reservoir. There are only two reasons why the b..