GMC Terrain: Initial Drive Information / Steering Wheel Adjustment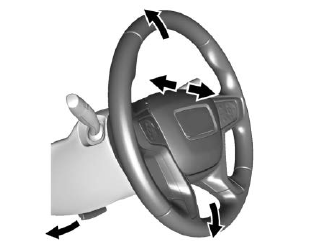 To adjust the steering wheel:
Pull the lever down.
Move the steering wheel up or down.
Pull or push the steering wheel closer or away from you.
Pull the lever up to lock the steering wheel in place.
Do not adjust the steering wheel while driving.
Adjustment Adjust the rearview mirror to clearly view the area behind the vehicle. Manual Rearview Mirror For vehicles with a manual rearview mirror, push the tab forward for daytime use and pull it rearward for nighttime use to avoid the glare of the headlamps from behind...
Other information:
Vehicle Identification Number (VIN) This legal identifier is in the front corner of the instrument panel, on the driver side of the vehicle. It can be seen through the windshield from outside. The Vehicle Identification Number (VIN) also appears on the Vehicle Certification and Service Parts labels and certificates of title and registration. Engine Identification The eighth character i..
The passenger sensing system is designed to turn off the front outboard passenger frontal airbag if the system determines that an infant is present in a child restraint. If a child restraint has been installed and the ON indicator is lit: Turn the vehicle off. Remove the child restraint from the vehicle. Remove any additional items from the seat such as blankets, cushions, seat cov..