GMC Terrain: Initial Drive Information / Memory Features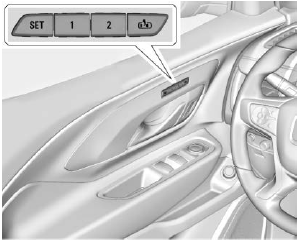 If equipped, memory seats allow two drivers to save and recall their unique seat positions for driving the vehicle, and a shared exit position for getting out of the vehicle. Other feature positions may also be saved, such as power mirrors and power steering wheel, if equipped. Memory positions are linked to RKE transmitter 1 or 2 for automatic memory recalls.
Before saving, adjust all available memory feature positions. Turn the ignition on and then press and release SET; a beep will sound. Then immediately press and hold 1, 2, or

(Exit) until two beeps sound. To manually recall these positions, press and hold 1, 2, or
until the saved position is reached.
When Seat Entry Memory is enabled in vehicle personalization, positions previously saved to memory buttons 1 and 2 are recalled when the ignition is changed from off to on or ACC/ ACCESSORY.
When Seat Exit Memory is enabled in vehicle personalization, the feature automatically recalls the previously saved exit position when exiting the vehicle.
Memory adjustments may not be available upon delivery or after service until steps in "Saving Memory Positions" section are performed. See Memory Seats.