GMC Terrain: Front Seats / Lumbar Adjustment and Reclining Seatbacks
Lumbar Adjustment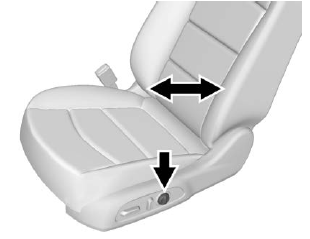 If equipped, press and hold the front or rear of the control to increase or decrease lumbar support.
Reclining Seatbacks
Warning
Sitting in a reclined position when the vehicle is in motion can be dangerous. Even when buckled up, the seat belts cannot do their job.
The shoulder belt will not be against your body. Instead, it will be in front of you. In a crash, you could go into it, receiving neck or other injuries.
The lap belt could go up over your abdomen. The belt forces would be there, not at your pelvic bones. This could cause serious internal injuries.
For proper protection when the vehicle is in motion, have the seatback upright. Then sit well back in the seat and wear the seat belt properly.
Do not have a seatback reclined if the vehicle is moving.
Warning The power seats will work with the ignition off. Children could operate the power seats and be injured. Never leave children alone in the vehicle...
Warning If either seatback is not locked, it could move forward in a sudden stop or crash. That could cause injury to the person sitting there. Always push and pull on the seatbacks to be sure they are locked...
Other information:
The vehicle must be on a level surface when checking the coolant level. Check to see if coolant is visible in the coolant surge tank. If the coolant inside the coolant surge tank is boiling, do not do anything else until it cools down. If coolant is visible but the coolant level mark is not visible, add a 50/50 mixture of clean, drinkable water and DEX-COOL coolant at the coolant surge..
Warning Plain water, or other liquids such as alcohol, can boil before the proper coolant mixture will. With plain water or the wrong mixture, the engine could get too hot but there would not be an overheat warning. The engine could catch fire and you or others could be burned. Use a 50/50 mixture of clean, drinkable water and DEX-COOL coolant. If using this mixture, nothing else needs t..