GMC Terrain: Setting Adaptive Cruise Control / Irregular Objects Affecting ACC
ACC may have difficulty detecting the following objects:
Vehicles in front of your vehicle that have a rear aspect that is low, small, or irregular
An empty truck or trailer that has no cargo in the cargo bed
Vehicles with cargo extending from the back end
Non-standard shaped vehicles, such as vehicle transport, vehicles with a side car fitted, or horse carriages
Vehicles that are low to the road surface
Objects that are close to the front of your vehicle
Vehicles on which extremely heavy cargo is loaded in the cargo area or rear seat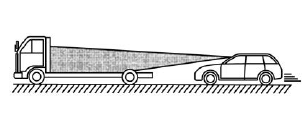 Warning ACC may not detect and react to stopped or slow-moving vehicles ahead of you. For example, the system may not brake for a vehicle it has never detected moving...
ACC may automatically disengage and the driver will need to manually apply the brakes to slow the vehicle if: The front camera is blocked or visibility is reduced...
Other information:
If ACC is engaged, driver action may be required when ACC cannot apply sufficient braking because of approaching a vehicle too rapidly. When this condition occurs, six red lights will flash on the windshield. Either eight beeps will sound from the front, or both sides of the Safety Alert Seat will pulse five times...
To adjust the mirrors: Press or to choose the driver or passenger mirror. Press the arrows on the control pad to move each mirror in the desired direction. ..