GMC Terrain: Vehicle Checks / Gas Strut(s)
This vehicle is equipped with gas strut(s) to provide assistance in lifting and holding open the hood/ trunk/liftgate system in full open position.
Warning
If the gas struts that hold open the hood, trunk, and/or liftgate fail, you or others could be seriously injured. Take the vehicle to your dealer for service immediately. Visually inspect the gas struts for signs of wear, cracks, or other damage periodically. Check to make sure the hood/trunk/liftgate is held open with enough force. If struts are failing to hold the hood/trunk/liftgate, do not operate. Have the vehicle serviced.
Caution
Do not apply tape or hang any objects from gas struts. Also do not push down or pull on gas struts. This may cause damage to the vehicle.
See Maintenance Schedule.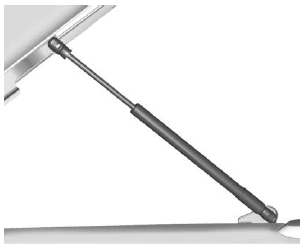 Hood
Trunk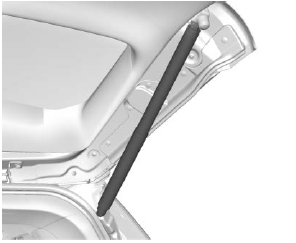 Liftgate