GMC Terrain: Driver Assistance Systems / Park Assist
With RPA, and if equipped with FPA, as the vehicle moves at speeds of less than 8 km/h (5 mph), the sensors on the bumpers may detect objects up to 2.5m (8 ft) behind the vehicle and 1.2m (4 ft) in front of the vehicle within a zone 25 cm (10 in) high off the ground and below bumper level. These detection distances may be shorter during warmer or humid weather. Blocked sensors will not detect objects and can also cause false detections. Keep the sensors clean of mud, dirt, snow, ice, and slush; and clean sensors after a car wash in freezing temperatures.
Warning
The Park Assist system does not detect children, pedestrians, bicyclists, animals, or objects located below the bumper or that are too close or too far from the vehicle. It is not available at speeds greater than 8 km/h (5 mph). To prevent injury, death, or vehicle damage, even with Park Assist, always check the area around the vehicle and check all mirrors before moving forward or backing.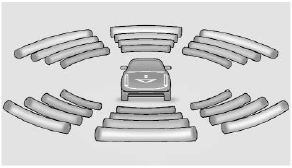 The instrument cluster may have a Park Assist display with bars that show "distance to object" and object location information for the Park Assist system. As the object gets closer, more bars light up and the bars change color from yellow to amber to red.
When an object is first detected in the rear, one beep will be heard from the rear, or both sides of the Safety Alert Seat will pulse two times. When an object is very close (<0.6m (2 ft) in the vehicle rear, or <0.3m (1 ft) in the vehicle front), five beeps will sound from the front or rear depending on object location, or both sides of the Safety Alert Seat will pulse five times. Beeps for FPA are higher pitched than for RPA.
Touch the camera view buttons along the bottom of the infotainment display. Front/Rear Standard View : Displays an image of the area in front or behind the vehicle...
If equipped, when the vehicle is shifted into R (Reverse), RCTA displays a red warning triangle with a left or right pointing arrow to warn of traffic coming from the left or right...
Other information:
Emergency Services require an active safety and security plan. With Automatic Crash Response, built-in sensors can automatically alert a specially trained OnStar Advisor who is immediately connected in to the vehicle to help. Press for a priority connection to an OnStar Advisor who can contact emergency service providers, direct them to your exact location, and relay important informat..
Driver Assistance Systems If the windshield needs to be replaced and the vehicle is equipped with a front camera sensor for the Driver Assistance Systems, a GM replacement windshield is recommended. The replacement windshield must be installed according to GM specifications for proper alignment. If it is not, these systems may not work properly, they may display messages, or they may not..