GMC Terrain: Setting Adaptive Cruise Control / Do Not Use ACC on Hills and When Towing a Trailer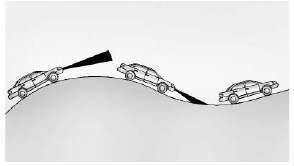 Do not use ACC when driving on steep hills or when towing a trailer. ACC will not detect a vehicle in the lane while driving on steep hills. If the brakes are applied, ACC disengages.
There are three ways to disengage ACC: Step lightly on the brake pedal. Press . Press . ..
Other information:
Seat belts work for everyone, including pregnant women. Like all occupants, they are more likely to be seriously injured if they do not wear seat belts. A pregnant woman should wear a lap-shoulder belt, and the lap portion should be worn as low as possible, below the rounding, throughout the pregnancy. The best way to protect the fetus is to protect the mother. When a seat belt is worn ..
If the vehicle has Forward Collision Alert (FCA), it also has FAB, which includes Intelligent Brake Assist (IBA). When the system detects a vehicle ahead in your path that is traveling in the same direction that you may be about to crash into, it can provide a boost to braking or automatically brake the vehicle. This can help avoid or lessen the severity of crashes when driving in a for..