GMC Terrain: Setting Adaptive Cruise Control / Do Not Use ACC on Hills and When Towing a Trailer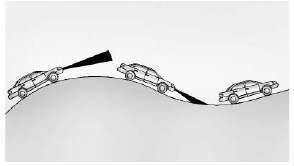 Do not use ACC when driving on steep hills or when towing a trailer. ACC will not detect a vehicle in the lane while driving on steep hills. If the brakes are applied, ACC disengages.
There are three ways to disengage ACC: Step lightly on the brake pedal. Press . Press . ..
Other information:
Press and hold 1, 2, or to recall the previously saved memory positions. To stop Manual Memory Recall movement, release 1, 2, or or press any of the following controls: Power seat Memory SET Power mirror, with the driver or passenger side mirror selected Power steering wheel, if equipped ..
Base Level English Shown, Metric Similar Midlevel English Shown, Metric Similar Cluster Menu (Midlevel) There is an interactive display area in the center of the instrument cluster. Use the right steering wheel control to open and scroll through the different items and displays. Press to access the cluster applications. Use or to scroll through the list of available applications. Not ..