GMC Terrain: Setting Adaptive Cruise Control / Do Not Use ACC on Hills and When Towing a Trailer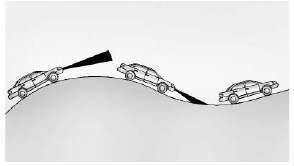 Do not use ACC when driving on steep hills or when towing a trailer. ACC will not detect a vehicle in the lane while driving on steep hills. If the brakes are applied, ACC disengages.
There are three ways to disengage ACC: Step lightly on the brake pedal. Press . Press . ..
Other information:
The shift switches are on the center stack. The selected gear position will illuminate red on the shift switch, while all others will be displayed in white. If the shift is not immediate, as in very cold conditions, the indicator on the shift switch may blink until it is fully engaged. The transmission does not operate when the vehicle is off. If the vehicle is in ACC/ ACCESSORY, the tra..
The wiring circuits in the vehicle are protected from short circuits by a combination of fuses and circuit breakers. This greatly reduces the chance of damage caused by electrical problems. Danger Fuses and circuit breakers are marked with their ampere rating. Do not exceed the specified amperage rating when replacing fuses and circuit breakers. Use of an oversized fuse or circuit break..