GMC Terrain: Setting Adaptive Cruise Control / Do Not Use ACC on Hills and When Towing a Trailer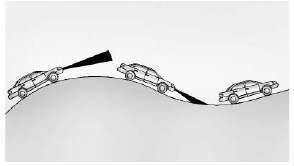 Do not use ACC when driving on steep hills or when towing a trailer. ACC will not detect a vehicle in the lane while driving on steep hills. If the brakes are applied, ACC disengages.
There are three ways to disengage ACC: Step lightly on the brake pedal. Press . Press . ..
Other information:
Engine Exhaust Warning Engine exhaust contains carbon monoxide (CO), which cannot be seen or smelled. Exposure to CO can cause unconsciousness and even death. Exhaust may enter the vehicle if: The vehicle idles in areas with poor ventilation (parking garages, tunnels, deep snow that may block underbody airflow or tail pipes). The exhaust smells or sounds strange or different. ..
Warning Filling a portable fuel container while it is in the vehicle can cause fuel vapors that can ignite either by static electricity or other means. You or others could be badly burned and the vehicle could be damaged. Always: Use approved fuel containers. Remove the container from the vehicle, trunk, or pickup bed before filling. Place the container on the ground. Place the ..