GMC Terrain: Setting Adaptive Cruise Control / Do Not Use ACC on Hills and When Towing a Trailer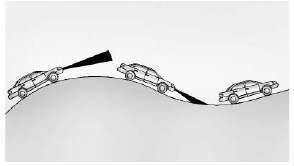 Do not use ACC when driving on steep hills or when towing a trailer. ACC will not detect a vehicle in the lane while driving on steep hills. If the brakes are applied, ACC disengages.
There are three ways to disengage ACC: Step lightly on the brake pedal. Press . Press . ..
Other information:
HDC can be used when driving downhill. It sets and maintains vehicle speed while descending a very steep incline in a forward or reverse gear. The HDC switch is on the center console. Press to enable or disable HDC. Vehicle speed must be below 50 km/h (31 mph). The HDC light displays on the instrument cluster when enabled. HDC can maintain vehicle speeds between 3 and 22 km/h (2 and 14..
Service Manuals Service manuals have the diagnosis and repair information on the engine, transmission, axle, suspension, brakes, electrical system, steering system, body, etc. Customer Literature Owner's manuals are written specifically for owners and are intended to provide basic operational information about the vehicle. The owner's manual includes the Maintenance Schedule for all ..