GMC Terrain: Setting Adaptive Cruise Control / Do Not Use ACC on Hills and When Towing a Trailer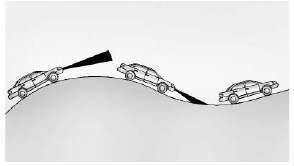 Do not use ACC when driving on steep hills or when towing a trailer. ACC will not detect a vehicle in the lane while driving on steep hills. If the brakes are applied, ACC disengages.
There are three ways to disengage ACC: Step lightly on the brake pedal. Press . Press . ..
Other information:
Forward Collision Alert (FCA) System If equipped, FCA may help avoid or reduce the harm caused by front-end crashes. FCA provides a green indicator, , when a vehicle is detected ahead. This indicator displays amber if you follow a vehicle too closely. When approaching a vehicle ahead too quickly, FCA provides a flashing red alert on the windshield and rapidly beeps or pulses the driver s..
Electronic Range Select (ERS) Mode ERS or manual mode allows for the selection of the range of gear positions. Use this mode when driving downhill or towing a trailer to limit the top gear and vehicle speed. The shift position indicator within the Driver Information Center (DIC) will display a number next to the L indicating the highest available gear under manual mode and the driving c..