GMC Terrain: Additional Storage Features / Cargo Tie-Downs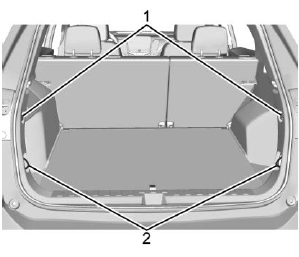 Convenience Net Retainers
Cargo Tie-Downs
The vehicle may be equipped with two cargo tie-downs and two convenience net retainers in the rear compartment.
Convenience Net
This vehicle may have a convenience net in the rear of the vehicle. Attach it to the convenience net retainers for storing small loads.
Do not use the net to store heavy loads.
Warning An unsecured cargo cover could strike people in a sudden stop or turn, or in a crash. Store the cargo cover securely or remove it from the vehicle...
Warning If something is carried on top of the vehicle that is longer or wider than the roof rack—like paneling, plywood, or a mattress—the wind can catch it while the vehicle is being driven...
Other information:
Electronic Range Select (ERS) Mode ERS or manual mode allows for the selection of the range of gear positions. Use this mode when driving downhill or towing a trailer to limit the top gear and vehicle speed. The shift position indicator within the Driver Information Center (DIC) will display a number next to the L indicating the highest available gear under manual mode and the driving c..
Top Tier Fuel (Gasoline) GM recommends the use of TOP TIER Detergent Gasoline to keep the engine clean, reduce engine deposits, and maintain optimal vehicle performance. Look for the TOP TIER Logo or see www.toptiergas.com for a list of TOP TIER Detergent Gasoline marketers and applicable countries. Top Tier Fuel (Diesel) GM recommends the use of TOP TIER Diesel Fuel to keep the engine ..