GMC Terrain: Storage / Storage Compartments
Warning
Do not store heavy or sharp objects in storage compartments. In a crash, these objects may cause the cover to open and could result in injury.
Glove Box
Open the glove box by lifting up on the lever.
Cupholders
Two cupholders are in the center console. Cupholders may be located in the second row seat armrest. To access, pull the armrest down.
Center Console Storage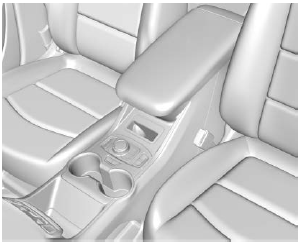 There is storage in the center console; lift the lever on the front to open.
If equipped, there are two USB ports for data and charging.
Other information:
This light shows if there is an electrical problem with the airbag system. The system check includes the airbag sensor(s), the passenger sensing system, the pretensioners, the airbag modules, the wiring, and the crash sensing and diagnostic module. For more information on the airbag system, see Airbag System. The airbag readiness light comes on for several seconds when the vehicle is st..
Warning Fuel vapors and fuel fires burn violently and can cause injury or death. To help avoid injuries to you and others, read and follow all the instructions on the fuel pump island. Turn off the engine when refueling. Keep sparks, flames, and smoking materials away from fuel. Do not leave the fuel pump unattended. Avoid using electronic devices while refueling. Do not r..