GMC Terrain: Storage / Storage Compartments
Warning
Do not store heavy or sharp objects in storage compartments. In a crash, these objects may cause the cover to open and could result in injury.
Glove Box
Open the glove box by lifting up on the lever.
Cupholders
Two cupholders are in the center console. Cupholders may be located in the second row seat armrest. To access, pull the armrest down.
Center Console Storage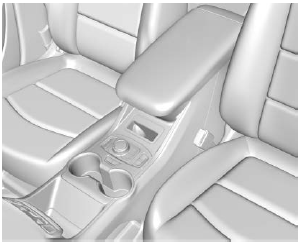 There is storage in the center console; lift the lever on the front to open.
If equipped, there are two USB ports for data and charging.
Other information:
The rear compartment fuse block is behind a trim panel on the side of the rear compartment. Remove the trim plate to access the fuse block. The vehicle may not be equipped with all of the fuses and relays shown. Fuses Usage F1 Exhaust fuel heater F2 Liftgate F3 Trailer au..
The Diesel Particulate Filter (DPF) system filters soot particles out of the exhaust gases. The DPF is under the vehicle in the exhaust system. Depending on a number of factors monitored by the engine computer, the DPF will need to be cleaned of accumulated solids. When a cleaning is needed, the engine computer will initiate a self-cleaning function that runs automatically during drivin..