GMC Terrain: Controls / Steering Wheel Adjustment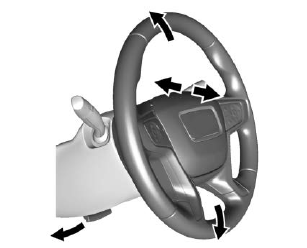 To adjust the steering wheel:
Pull the lever down.
Move the steering wheel up or down.
Pull or push the steering wheel closer or away from you.
Pull the lever up to lock the steering wheel in place.
Do not adjust the steering wheel while driving.
Heated Steering Wheel : If equipped, press to turn it on or off. A light next to the button displays when the feature is turned on. The steering wheel takes about three minutes to start heating...
Other information:
If equipped, LKA may help avoid crashes due to unintentional lane departures. It may assist by gently turning the steering wheel if the vehicle approaches a detected lane marking without using a turn signal in that direction. It may also provide a Lane Departure Warning (LDW) system alert as the lane marking is crossed...
Air Pressure : The amount of air inside the tire pressing outward on each square inch of the tire. Air pressure is expressed in kPa (kilopascal) or psi (pounds per square inch). Accessory Weight : The combined weight of optional accessories. Some examples of optional accessories are automatic transmission, power windows, power seats, and air conditioning...