GMC Terrain: Controls / Steering Wheel Adjustment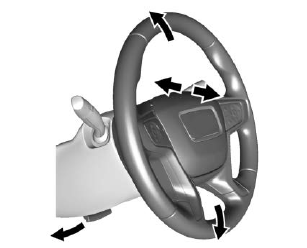 To adjust the steering wheel:
Pull the lever down.
Move the steering wheel up or down.
Pull or push the steering wheel closer or away from you.
Pull the lever up to lock the steering wheel in place.
Do not adjust the steering wheel while driving.
Heated Steering Wheel : If equipped, press to turn it on or off. A light next to the button displays when the feature is turned on. The steering wheel takes about three minutes to start heating...
Other information:
In cold weather, the fuel filter may become clogged by wax naturally present in the fuel. To unclog it, move the vehicle to a warm garage area and allow the filter to warm up. The fuel filter may need to be replaced. See Fuel Filter Replacement (Diesel)...
Metric Uplevel English Uplevel This gauge shows the engine coolant temperature. If the pointer moves toward the warning area at the high end of the gauge, the engine is too hot. If the engine coolant has overheated and the vehicle has been operating under normal driving conditions, pull off the road, stop the vehicle, and turn off the engine as soon as possible...