GMC Terrain: Bulb Replacement / License Plate Lamp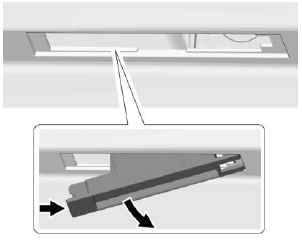 Lamp Assembly
Bulb Assembly
Bulb Socket
Bulb
Lamp Assembly
To replace one of these bulbs:
Open the liftgate partway. See Liftgate.
Push the lamp assembly outboard to remove.
Pull the lamp assembly down to remove it from the liftgate.
Turn the bulb socket (1) counterclockwise to remove it from the lamp assembly (3).
Pull the bulb (2) straight out of the bulb socket (1).
Push the replacement bulb straight into the bulb socket and turn the bulb socket clockwise to install it into the lamp assembly.
Push the lamp assembly into the liftgate engaging the clip side first.
Push on the lamp side opposite the clip until the lamp assembly snaps into place.
To replace one of these lamps: Open the liftgate. See Liftgate. Remove the two screw caps and two screws from the taillamp assembly. Pull the taillamp assembly out of the vehicle body...
Other information:
Warning Never fill a portable fuel container while it is in the vehicle. Static electricity discharge from the container can ignite the fuel vapor. You can be badly burned and the vehicle damaged if this occurs. To help avoid injury to you and others: Dispense fuel only into approved containers. Do not fill a container while it is inside a vehicle, in a vehicle's trunk, pickup bed,..
Base Level English Shown, Metric Similar Midlevel English Shown, Metric Similar Cluster Menu (Midlevel) There is an interactive display area in the center of the instrument cluster. Use the right steering wheel control to open and scroll through the different items and displays. Press to access the cluster applications. Use or to scroll through the list of available applications. Not ..