GMC Terrain: Bulb Replacement / License Plate Lamp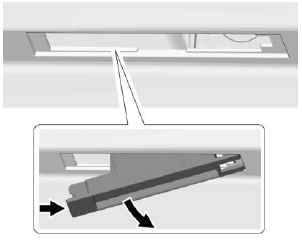 Lamp Assembly
Bulb Assembly
Bulb Socket
Bulb
Lamp Assembly
To replace one of these bulbs:
Open the liftgate partway. See Liftgate.
Push the lamp assembly outboard to remove.
Pull the lamp assembly down to remove it from the liftgate.
Turn the bulb socket (1) counterclockwise to remove it from the lamp assembly (3).
Pull the bulb (2) straight out of the bulb socket (1).
Push the replacement bulb straight into the bulb socket and turn the bulb socket clockwise to install it into the lamp assembly.
Push the lamp assembly into the liftgate engaging the clip side first.
Push on the lamp side opposite the clip until the lamp assembly snaps into place.
To replace one of these lamps: Open the liftgate. See Liftgate. Remove the two screw caps and two screws from the taillamp assembly. Pull the taillamp assembly out of the vehicle body...
Other information:
If equipped, Surround Vision shows an image of the area surrounding the vehicle, along with the front or rear camera views on the infotainment display. The front camera is in the grille or near the front emblem, the side cameras are on the bottom of the outside mirrors, and the rear camera is above the license plate. The Surround Vision system can be accessed by selecting CAMERA in the ..
After frontal and seat-mounted side impact airbags inflate, they quickly deflate, so quickly that some people may not even realize the airbags inflated. Roof-rail airbags may still be at least partially inflated for some time after they inflate. Some components of the airbag module may be hot for several minutes. For location of the airbags, see Where Are the Airbags?. The parts of the a..