GMC Terrain: Bulb Replacement / License Plate Lamp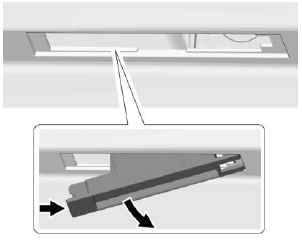 Lamp Assembly
Bulb Assembly
Bulb Socket
Bulb
Lamp Assembly
To replace one of these bulbs:
Open the liftgate partway. See Liftgate.
Push the lamp assembly outboard to remove.
Pull the lamp assembly down to remove it from the liftgate.
Turn the bulb socket (1) counterclockwise to remove it from the lamp assembly (3).
Pull the bulb (2) straight out of the bulb socket (1).
Push the replacement bulb straight into the bulb socket and turn the bulb socket clockwise to install it into the lamp assembly.
Push the lamp assembly into the liftgate engaging the clip side first.
Push on the lamp side opposite the clip until the lamp assembly snaps into place.
To replace one of these lamps: Open the liftgate. See Liftgate. Remove the two screw caps and two screws from the taillamp assembly. Pull the taillamp assembly out of the vehicle body...
Other information:
If the cruise control system is already activated: Press and hold +RES on the steering wheel until the vehicle accelerates to the desired speed, then release it. To increase the speed in small increments, briefly press +RES. For each press, the vehicle goes about 1 km/h (1 mph) faster. The speedometer reading can be displayed in either English or metric units. See Instrument Clu..
Utility vehicles have a significantly higher rollover rate than other types of vehicles. This is because they have a higher ground clearance and a narrower track or shorter wheelbase than passenger cars, which makes them more capable for off-road driving. While these design characteristics provide the driver with a better view of the road, these vehicles do have a higher center of gravi..