GMC Terrain: Rear Seats / Heated Rear Seats
Warning
If temperature change or pain to the skin cannot be felt, the seat heater may cause burns. See the Warning under Heated and Ventilated Front Seats.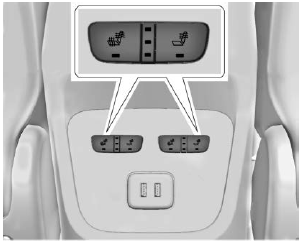 If equipped, the rear heated seat buttons are on the rear of the center console.
Press

to heat the left or right outboard seat cushion and seatback.
Press

to heat the left or right outboard seatback only.
Press the button once for the highest setting. With each press of the button, the heated seat will change to the next lower setting, and then to the off setting. The lights indicate three for the highest setting and one for the lowest.
Warning If either seatback is not locked, it could move forward in a sudden stop or crash. That could cause injury to the person sitting there. Always push and pull on the seatbacks to be sure they are locked...
Other information:
It is very important to know how much weight the vehicle can carry. This weight is called the vehicle capacity weight and includes the weight of all occupants, cargo, and all nonfactory-installed options. Two labels on the vehicle may show how much weight it may properly carry, the Tire and Loading Information label and the Certification/Tire label. Warning Do not load the vehicle any ..
The vehicle's right wheels can drop off the edge of a road onto the shoulder while driving. Follow these tips: Ease off the accelerator and then, if there is nothing in the way, steer the vehicle so that it straddles the edge of the pavement. Turn the steering wheel about one-eighth of a turn, until the right front tire contacts the pavement edge. Turn the steering wheel to g..