GMC Terrain: Exterior Lighting / Fog Lamps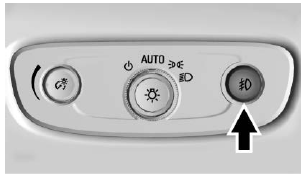 The fog lamps button is on the instrument panel beside the steering wheel.
To turn on the fog lamps, the ignition and the headlamps or parking lamps must be on.
: If equipped, press to turn on or off. An indicator light on the instrument cluster comes on when the fog lamps are on.
Some localities have laws that require the headlamps to be on along with the fog lamps.
Move the lever all the way up or down to signal a turn. An arrow on the instrument cluster will flash in the direction of the turn or lane change. Raise or lower the lever until the arrow starts to flash to signal a lane change...
Other information:
TOP TIER Detergent Diesel is highly recommended for use with your vehicle. If your area does not have TOP TIER Detergent Diesel, GM recommends the use of ACDelco Diesel Fuel Conditioner. This will help you maintain optimal engine performance. GM does not recommend other aftermarket diesel additives. In the event you refuel using low-quality diesel, GM recommends adding ACDelco Fuel Syst..
Warning Avoid getting Diesel Exhaust Fluid (DEF) on your skin or in your eyes as it could cause irritation. For more safety, handling, and storage information, see the Diesel Exhaust Fluid container label. Diesel Exhaust Fluid (DEF) is used with diesel engines to reduce the amount of regulated emissions produced. Products such as AdBlue are types of DEF, and are approved for use in the ..