GMC Terrain: Appearance Care / Floor Mats
Warning
If a floor mat is the wrong size or is not properly installed, it can interfere with the pedals. Interference with the pedals can cause unintended acceleration and/or increased stopping distance which can cause a crash and injury. Make sure the floor mat does not interfere with the pedals.
Use the following guidelines for proper floor mat usage.
The original equipment floor mats were designed for your vehicle. If the floor mats need replacing, it is recommended that GM certified floor mats be purchased. Non-GM floor mats may not fit properly and may interfere with the accelerator or brake pedal. Always check that the floor mats do not interfere with the pedals.
Do not use a floor mat if the vehicle is not equipped with a floor mat retainer on the driver side floor.
Use the floor mat with the correct side up. Do not turn it over.
Do not place anything on top of the driver side floor mat.
Use only a single floor mat on the driver side.
Do not place one floor mat on top of another.
Removing and Replacing the Floor Mat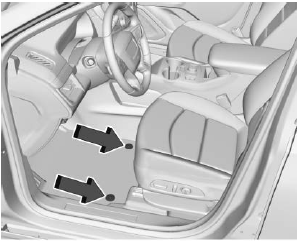 The driver side floor mat is held in place by two retainers.
Pull up on the rear of the floor mat to unlock each retainer and remove.
Reinstall by lining up the floor mat retainer openings over the carpet retainers and snap into position.
Make sure the floor mat is properly secured in place. Verify the floor mat does not interfere with the pedals.
To prevent dirt particle abrasions, regularly clean the vehicle's interior. Immediately remove any soils. Newspapers or dark garments can transfer color to the vehicle's interior...
Other information:
The Driver Mode Control has the following Modes: Tour (FWD), All-Wheel Drive (AWD), Snow/Ice, and Tow/Haul. Turn the Driver Mode Control knob on the center console to make a mode selection. Continue turning the knob through the available modes. The selected mode's icon will light up on the knob. The vehicle must be in Park to switch between modes. Driver Mode Control Knob for Front-Wh..
The cruise control lets the vehicle maintain a speed of about 40 km/h (25 mph) or more without keeping your foot on the accelerator. Cruise control does not work at speeds below 40 km/h (25 mph). Warning Cruise control can be dangerous where you cannot drive safely at a steady speed. Do not use cruise control on winding roads or in heavy traffic. Cruise control can be dangerous on slippe..