GMC Terrain: Appearance Care / Floor Mats
Warning
If a floor mat is the wrong size or is not properly installed, it can interfere with the pedals. Interference with the pedals can cause unintended acceleration and/or increased stopping distance which can cause a crash and injury. Make sure the floor mat does not interfere with the pedals.
Use the following guidelines for proper floor mat usage.
The original equipment floor mats were designed for your vehicle. If the floor mats need replacing, it is recommended that GM certified floor mats be purchased. Non-GM floor mats may not fit properly and may interfere with the accelerator or brake pedal. Always check that the floor mats do not interfere with the pedals.
Do not use a floor mat if the vehicle is not equipped with a floor mat retainer on the driver side floor.
Use the floor mat with the correct side up. Do not turn it over.
Do not place anything on top of the driver side floor mat.
Use only a single floor mat on the driver side.
Do not place one floor mat on top of another.
Removing and Replacing the Floor Mat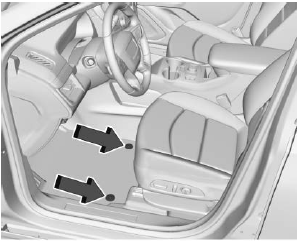 The driver side floor mat is held in place by two retainers.
Pull up on the rear of the floor mat to unlock each retainer and remove.
Reinstall by lining up the floor mat retainer openings over the carpet retainers and snap into position.
Make sure the floor mat is properly secured in place. Verify the floor mat does not interfere with the pedals.
To prevent dirt particle abrasions, regularly clean the vehicle's interior. Immediately remove any soils. Newspapers or dark garments can transfer color to the vehicle's interior...
Other information:
This vehicle has airbags. A rear seat is a safer place to secure a forward-facing child restraint. See Where to Put the Restraint. In addition, the vehicle has a passenger sensing system which is designed to turn off the front outboard passenger frontal airbag under certain conditions. See Passenger Sensing System and Passenger Airbag Status Indicator for more information, including impo..
In-Vehicle Audio Messages Audio messages may play important information at the following times: Prior to vehicle purchase. Press to set up an account. After change in ownership and at 90 days. Transferring Service Press to request account transfer eligibility information. The Advisor can cancel or change account information. Selling/Transferring the Vehicle Call 1-888-4ONSTAR (1-88..