GMC Terrain: Setting Adaptive Cruise Control / Curves in the Road
Warning
On curves, ACC may not detect a vehicle ahead in your lane. You could be startled if the vehicle accelerates up to the set speed, especially when following a vehicle exiting or entering exit ramps. You could lose control of the vehicle or crash. Do not use ACC while driving on an entrance or exit ramp. Always be ready to use the brakes if necessary.
Warning
On curves, ACC may respond to a vehicle in another lane, or may not have time to react to a vehicle in your lane. You could crash into a vehicle ahead of you, or lose control of your vehicle. Give extra attention in curves and be ready to use the brakes if necessary. Select an appropriate speed while driving in curves.
ACC may operate differently in a sharp curve. It may reduce the vehicle speed if the curve is too sharp.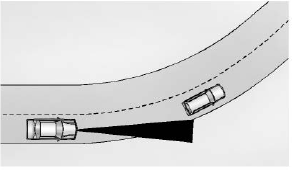 When following a vehicle and entering a curve, ACC may not detect the vehicle ahead and accelerate to the set speed. When this happens, the vehicle ahead indicator will not appear.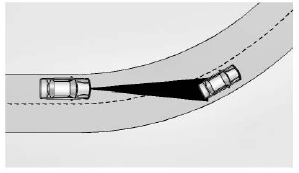 ACC may detect a vehicle that is not in your lane and apply the brakes.
ACC may occasionally provide an alert and/or braking that is considered unnecessary. It could respond to vehicles in different lanes or stationary objects when entering or exiting a curve. This is normal operation. The vehicle does not need service.
ACC will maintain a follow gap behind a detected vehicle and slow your vehicle to a stop behind that vehicle. If the stopped vehicle ahead has driven away and ACC has not resumed, the vehicle ahead indicator will flash as a reminder to check traffic ahead before proceeding...
ACC will not detect a vehicle ahead until it is completely in the lane. The brakes may need to be manually applied...
Other information:
Electric Parking Brake Light This light comes on when the parking brake is applied. If the light continues flashing after the parking brake is released, or while driving, there is a problem with the Electric Parking Brake system. A message may also display in the Driver Information Center (DIC). If the light does not come on, or remains flashing, see your dealer. Service Electric Parking ..
Online Owner Experience (U.S.) my.gmc.com The GMC online owner experience is a one-stop resource that allows interaction with GMC and keeps important vehicle-specific information in one place. Membership Benefits : Download owner's manuals and view vehicle-specific how-to videos. : View maintenance schedules, alerts, and Vehicle Diagnostic Information. Schedule service appointments. ..