GMC Terrain: Setting Adaptive Cruise Control / Curves in the Road
Warning
On curves, ACC may not detect a vehicle ahead in your lane. You could be startled if the vehicle accelerates up to the set speed, especially when following a vehicle exiting or entering exit ramps. You could lose control of the vehicle or crash. Do not use ACC while driving on an entrance or exit ramp. Always be ready to use the brakes if necessary.
Warning
On curves, ACC may respond to a vehicle in another lane, or may not have time to react to a vehicle in your lane. You could crash into a vehicle ahead of you, or lose control of your vehicle. Give extra attention in curves and be ready to use the brakes if necessary. Select an appropriate speed while driving in curves.
ACC may operate differently in a sharp curve. It may reduce the vehicle speed if the curve is too sharp.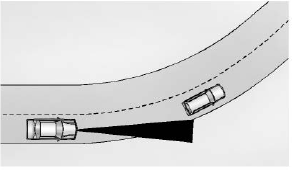 When following a vehicle and entering a curve, ACC may not detect the vehicle ahead and accelerate to the set speed. When this happens, the vehicle ahead indicator will not appear.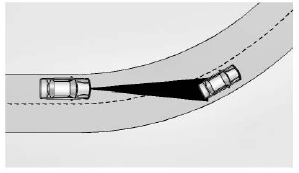 ACC may detect a vehicle that is not in your lane and apply the brakes.
ACC may occasionally provide an alert and/or braking that is considered unnecessary. It could respond to vehicles in different lanes or stationary objects when entering or exiting a curve. This is normal operation. The vehicle does not need service.
ACC will maintain a follow gap behind a detected vehicle and slow your vehicle to a stop behind that vehicle. If the stopped vehicle ahead has driven away and ACC has not resumed, the vehicle ahead indicator will flash as a reminder to check traffic ahead before proceeding...
ACC will not detect a vehicle ahead until it is completely in the lane. The brakes may need to be manually applied...
Other information:
Driver Seat Belt Reminder Light There is a driver seat belt reminder light on the instrument cluster. When the vehicle is started, this light flashes and a chime may come on to remind the driver to fasten their seat belt. Then the light stays on solid until the belt is buckled. This cycle may continue several times if the driver remains or becomes unbuckled while the vehicle is moving. I..
Warning If temperature change or pain to the skin cannot be felt, the seat heater may cause burns. To reduce the risk of burns, use care when using the seat heater, especially for long periods of time. Do not place anything on the seat that insulates against heat, such as a blanket, cushion, cover, or similar item. This may cause the seat heater to overheat. An overheated seat heater m..