GMC Terrain: Cruise Control / Cruise Control. System Operation
The cruise control lets the vehicle maintain a speed of about 40 km/h (25 mph) or more without keeping your foot on the accelerator. Cruise control does not work at speeds below 40 km/h (25 mph).
Warning
Cruise control can be dangerous where you cannot drive safely at a steady speed. Do not use cruise control on winding roads or in heavy traffic.
Cruise control can be dangerous on slippery roads. On such roads, fast changes in tire traction can cause excessive wheel slip, and you could lose control. Do not use cruise control on slippery roads.
With the Traction Control System (TCS) or StabiliTrak/Electronic Stability Control (ESC), the system may begin to limit wheel spin while you are using cruise control. If this happens, the cruise control will automatically disengage. See Traction Control/Electronic Stability Control. If a collision alert occurs when cruise control is activated, cruise control is disengaged. See Forward Collision Alert (FCA) System. When road conditions allow you to safely use it again, cruise control can be turned back on.
Cruise control will disengage if either TCS or StabiliTrak/ESC is turned off.
If Hill Descent Control (HDC) is engaged, cruise control disengages. See Hill Descent Control (HDC).
If the brakes are applied, cruise control disengages.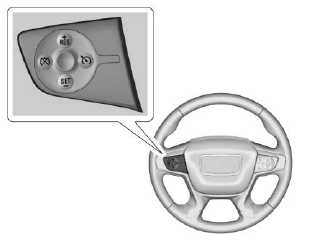 : Press to turn the cruise control system on and off. A white indicator comes on in the instrument cluster when cruise control is turned on.

: Press to disengage cruise control without erasing the set speed from memory.
+RES : If there is a set speed in memory, press briefly to resume that speed or press and hold to accelerate. If cruise control is already active, use to increase vehicle speed.
–SET : Press briefly to set the speed and activate cruise control. If cruise control is already active, use to decrease vehicle speed.
If is on when not in use, –SET or +RES could get bumped and go into cruise when not desired. Keep off when cruise is not being used. To set a speed: Press to turn the cruise system on...
Other information:
Copyright (c) 2012-2014 Freescale Semiconductor, Inc.. All rights reserved. Redistribution and use in source and binary forms, with or without modification, are permitted provided that the following conditions are met: Redistributions of source code must retain the above copyright notice, this list of conditions and the following disclaimer...
The vehicle has a passenger sensing system. See Passenger Sensing System for important safety information. The overhead console has a passenger airbag status indicator. When the vehicle is started, the passenger airbag status indicator will light ON and OFF for several seconds as a system check...