GMC Terrain: Driving Information / Certification/Tire Label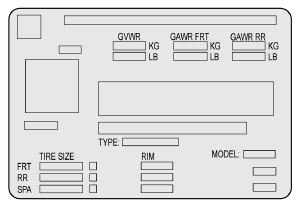 Label Example
A vehicle-specific Certification/ Tire label is attached to the center pillar (B-pillar).
The label may show the size of the vehicle's original tires and the inflation pressures needed to obtain the gross weight capacity of the vehicle. The label shows the gross weight capacity of the vehicle. This is called the Gross
Vehicle Weight Rating (GVWR). The GVWR includes the weight of the vehicle, all occupants, fuel, and cargo.
The Certification/Tire label may also show the maximum weights for the front and rear axles, called the Gross Axle Weight Rating (GAWR). To find out the actual loads on the front and rear axles, weigh the vehicle at a weigh station. Your dealer can help with this. Be sure to spread the load equally on both sides of the centerline.
Caution
Overloading the vehicle may cause damage. Repairs would not be covered by the vehicle warranty. Do not overload the vehicle.
Warning
Things inside the vehicle can strike and injure people in a sudden stop or turn, or in a crash.
Put things in the cargo area of the vehicle. In the cargo area, put them as far forward as possible. Try to spread the weight evenly.
Never stack heavier things, like suitcases, inside the vehicle so that some of them are above the tops of the seats.
Do not leave an unsecured child restraint in the vehicle.
Secure loose items in the vehicle.
Do not leave a seat folded down unless needed.
It is very important to know how much weight the vehicle can carry. This weight is called the vehicle capacity weight and includes the weight of all occupants, cargo, and all nonfactory-installed options...
Other information:
Warning A crash can damage the LATCH system in the vehicle. A damaged LATCH system may not properly secure the child restraint, resulting in serious injury or even death in a crash. To help make sure the LATCH system is working properly after a crash, see your dealer to have the system inspected and any necessary replacements made as soon as possible. If the vehicle has the LATCH system..
Electric Power Steering The vehicle has electric power steering. It does not have power steering fluid. Regular maintenance is not required. If power steering assist is lost due to a system malfunction, the vehicle can be steered, but may require increased effort. If the steering assist is used for an extended period of time while the vehicle is not moving, power assist may be reduced. If..