GMC Terrain: Roof / Automatic Reversal System
The sunroof has an automatic reversal system that is only active when the sunroof is operated in express-close mode.
If an object is in the path while express closing, the reversal system will detect an object, stop, and open the sunroof again.
If frost or other conditions prevent closing, override the feature by closing the sunroof in manual mode. To stop movement, release the switch.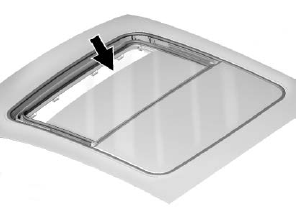 Dirt and debris may collect on the sunroof seal or in the track. This could cause an issue with sunroof operation or noise. It could also plug the water drainage system. Periodically open the sunroof and remove any obstacles or loose debris. Wipe the sunroof seal and roof sealing area using a clean cloth, mild soap, and water. Do not remove grease from the sunroof.
If water is seen dripping into the water drainage system, this is normal.
Sunroof Switch Sunshade Switch If equipped, the sunroof only operates when the ignition is on or in ACC/ACCESSORY, or when Retained Accessory Power (RAP) is active...
Other information:
Parking over Things That Burn Warning Things that can burn could touch hot exhaust parts under the vehicle and ignite. Do not park over papers, leaves, dry grass, or other things that can burn. Extended Parking It is best not to park with the vehicle running. If the vehicle is left running, be sure it will not move and there is adequate ventilation. See Shifting Into Park and Engine Exhaus..
If the cruise control system is already activated: Press and hold +RES on the steering wheel until the vehicle accelerates to the desired speed, then release it. To increase the speed in small increments, briefly press +RES. For each press, the vehicle goes about 1 km/h (1 mph) faster. The speedometer reading can be displayed in either English or metric units. See Instrument Clu..