GMC Terrain: Roof / Automatic Reversal System
The sunroof has an automatic reversal system that is only active when the sunroof is operated in express-close mode.
If an object is in the path while express closing, the reversal system will detect an object, stop, and open the sunroof again.
If frost or other conditions prevent closing, override the feature by closing the sunroof in manual mode. To stop movement, release the switch.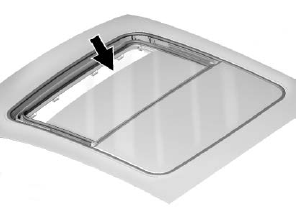 Dirt and debris may collect on the sunroof seal or in the track. This could cause an issue with sunroof operation or noise. It could also plug the water drainage system. Periodically open the sunroof and remove any obstacles or loose debris. Wipe the sunroof seal and roof sealing area using a clean cloth, mild soap, and water. Do not remove grease from the sunroof.
If water is seen dripping into the water drainage system, this is normal.
Sunroof Switch Sunshade Switch If equipped, the sunroof only operates when the ignition is on or in ACC/ACCESSORY, or when Retained Accessory Power (RAP) is active...
Other information:
For U.S.-purchased vehicles, call 1-888-881-3302; (Text Telephone (TTY): 1-888-889-2438). For Canadian-purchased vehicles, call 1-800-268-6800. Service is available 24 hours a day, 365 days a year. Calling for Assistance When calling Roadside Assistance, have the following information ready: Your name, home address, and home telephone number Telephone number of your location Location..
Folding Mirrors Manual Folding Mirrors The mirrors can be folded inward toward the vehicle to prevent damage when going through an automatic car wash. Push the mirror outward to return it to the original position. Memory Mirrors The vehicle may have memory mirrors. See Memory Seats. Lane Change Alert (LCA) The vehicle may have LCA. See Lane Change Alert (LCA). Heated Mirrors If equipped, the..