GMC Terrain: Roof / Automatic Reversal System
The sunroof has an automatic reversal system that is only active when the sunroof is operated in express-close mode.
If an object is in the path while express closing, the reversal system will detect an object, stop, and open the sunroof again.
If frost or other conditions prevent closing, override the feature by closing the sunroof in manual mode. To stop movement, release the switch.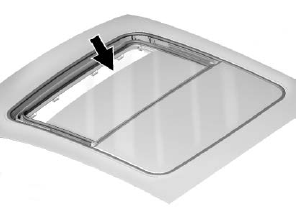 Dirt and debris may collect on the sunroof seal or in the track. This could cause an issue with sunroof operation or noise. It could also plug the water drainage system. Periodically open the sunroof and remove any obstacles or loose debris. Wipe the sunroof seal and roof sealing area using a clean cloth, mild soap, and water. Do not remove grease from the sunroof.
If water is seen dripping into the water drainage system, this is normal.
Sunroof Switch Sunshade Switch If equipped, the sunroof only operates when the ignition is on or in ACC/ACCESSORY, or when Retained Accessory Power (RAP) is active...
Other information:
Brake Assist The Brake Assist feature is designed to assist the driver in stopping or decreasing vehicle speed in emergency driving conditions. This feature uses the stability system hydraulic brake control module to supplement the power brake system under conditions where the driver has quickly and forcefully applied the brake pedal in an attempt to quickly stop or slow down the vehicl..
Voice Command Button Blue OnStar Button Red Emergency Button This vehicle may be equipped with a comprehensive, in-vehicle system that can connect to an OnStar Advisor for Emergency, Security, Navigation, Connections, and Diagnostics Services. OnStar services may require a paid service plan and data plan. OnStar requires the vehicle battery and electrical system, cellular servic..