GMC Terrain: Roof / Automatic Reversal System
The sunroof has an automatic reversal system that is only active when the sunroof is operated in express-close mode.
If an object is in the path while express closing, the reversal system will detect an object, stop, and open the sunroof again.
If frost or other conditions prevent closing, override the feature by closing the sunroof in manual mode. To stop movement, release the switch.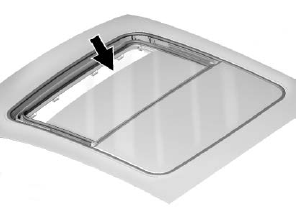 Dirt and debris may collect on the sunroof seal or in the track. This could cause an issue with sunroof operation or noise. It could also plug the water drainage system. Periodically open the sunroof and remove any obstacles or loose debris. Wipe the sunroof seal and roof sealing area using a clean cloth, mild soap, and water. Do not remove grease from the sunroof.
If water is seen dripping into the water drainage system, this is normal.
Sunroof Switch Sunshade Switch If equipped, the sunroof only operates when the ignition is on or in ACC/ACCESSORY, or when Retained Accessory Power (RAP) is active...
Other information:
Caution Do not repeatedly brake or accelerate heavily when TCS is off. The vehicle driveline could be damaged. At speeds of 56 km/h (35 mph) or above, this ability to turn off or on is disabled. TCS and StabiliTrak/ESC can be turned off or on using the DIC controls as follows: Press to access the cluster applications. Use or to scroll through the list of available applications. Press..
Air Pressure : The amount of air inside the tire pressing outward on each square inch of the tire. Air pressure is expressed in kPa (kilopascal) or psi (pounds per square inch). Accessory Weight : The combined weight of optional accessories. Some examples of optional accessories are automatic transmission, power windows, power seats, and air conditioning. Aspect Ratio : The relationship..